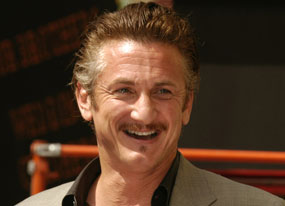 The guy practically had a nicotine fit and the local press didn't let him off lightly. At least he didn't punch anybody. According to the
Toronto Star
actor Sean Penn broke off his press conference in Toronto twice to chide the media for annoying him, while promoting the new wilderness film he directed, "Into the Wild", based on Jon Krakauer's bestseller.
"You can stop taking pictures because I can't think," Penn told wire photographers clicking their shutters near him."It's the ugliest music in the world, all of that. OK?"
Later, Penn was visiby irritated by background chatter during lengthy question which momentarily stumped him.
"What's everybody else talking about? Or are you just interrupting?" Penn said in a excessively calm voice.
Banned from lighting up a cigarette indoors, Penn crunched on a cup of ice chips fetched by his assistant.
Penn ejected compliments for his directing and admitted that he's always resented it when people ask directors how they elicit great performances from their actors.
"Doesn't fuckin happen," he said.
"Directors don't get performances out of actors. Actors give great performances to directors."
Fifteen years after top student and athlete Christopher McCandless walked away from his privileged life and a "sick society" into the wilds of Alaska, only to die of starvation, director Sean Penn on Sunday presented his life story in the world premiere of "Into the Wild."